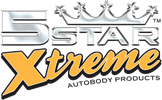 Every vehicle deserves the perfect finish! By selling 5 STAR EXTREME Autobody Products® or ADVANTAGE Refinish Products®, you are guaranteed the following:
Quality: Products manufactures to the highest quality control standards, using only the finest materials and state-of-the-art processes available today.
Performance: When used by professionals as directed, our products meet and exceed all requirements when compared to any other premium brand.
Value: Premium products at less than premium prices. Simply put, a great value for todays body shop customer! Help your customers stay competitive without sacrificing their bottom line.
Click below to start the journey to higher market share and more profits today!